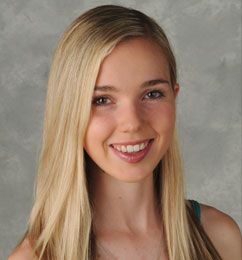 St. Ursula Academy
Track & Cross Country
Class of 2015

St. Ursula senior Annie Heffernan is a USA track All-American who also was a LaRosa's MVP finalist last year as a junior. In track, Annie was the 2014 and 2015 Ohio state champion in the 1600 run, this past season posting a 4:48.39 time, beating her own city record. She also won the 3200 this season running away from the field, and in her sophomore year in an Ohio state record time of 10:14.91. She was ranked as the nation's top runner in the 3200 in the class of 2015. Annie was named 2014 GGCL Track Runner of the Year and Cincinnati Div. I Track Runner of the Year. She won this year's regional championships in both the 1600 (setting a regional record 4:50.30) and the 3200 (10:47.12). In cross country, Annie this year was the regional champion, and was named Cincinnati Cross Country Runner of the Year by both the Enquirer and the Women's Sports Association. She has been 1st team all-city in cross country four times. She had won the Ohio state cross country championship her junior year, becoming the school's first-ever cross country state champion and named Ohio Gatorade Cross Country Runner of the Year. Annie, a National Honor Society student with a 4.5 GPA, will continue her running excellence at the University of Notre Dame.
CONGRATULATIONS, ANNIE!
MVP of the Week - Oct. 22, 2014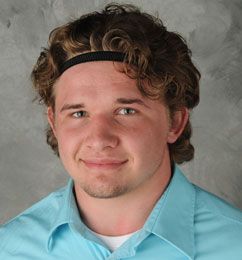 Campbell County High School
Wrestling
Class of 2015

In the history of high school wrestling in the state of Kentucky, there has never been anyone like All-American Austin Myers. The Campbell County High School senior won four straight Kentucky state wrestling championships in the same weight class (220 pounds). Austin posted a 60-0 record his senior year, and went an incredible undefeated 189-0 in his history-making varsity career, setting all of Campbell County wrestling records along the way. He was named Most Outstanding Wrestler in the Kentucky state tournament and was selected as the Enquirer's Northern Kentucky Wrestler of the Year. He was named first team all-state four consecutive years. In addition, Austin was three times named by the National High School Coaches Association as a national champion and three times was named a member of Team Kentucky. He was also selected as a member of Team USA at the 2015 Daper Dan Duels in Pennsylvania. Also playing three years of football, Austin Myers is an academic All-American and was a member of Student Council. He will continue his wrestling career at the University of West Virginia.
CONGRATULATIONS, AUSTIN!
MVP of the Week - Jan. 6, 2015